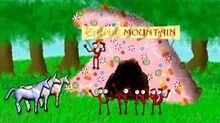 Candy Mountain is a mountain made of candy. Letters that spell CANDY sing about the mountain. On the outside, it seems friendly with candy as the building material. Inside, it looks nothing the the outside. Its dark grey with a sliding door. When the door's shut, the room is pitch black. When Charlie went in, he got his kidney stolen.
Ad blocker interference detected!
Wikia is a free-to-use site that makes money from advertising. We have a modified experience for viewers using ad blockers

Wikia is not accessible if you've made further modifications. Remove the custom ad blocker rule(s) and the page will load as expected.